AUTUMN ORNAMENTALS
Our curator for FLORA is Honey Sharp - a seasoned professional in gardens and horticulture. The Berkshires and Hudson Valley are rich in talent, with floral farmers, landscapers, garden designers, floral specialists for wedding and events, botanical nonprofits and even floral CSAs. Honey explores what the landscape offers, interviewing and photographing farmers and designers, covering the rich floral and horticultural resources that are unique to the region.
Honey Sharp settled in the Berkshires many moons ago when she opened the Honey Sharp Gallery and Ganesh Cafe in Lenox, MA. Later, with her passion for plants, gardening and landscape design she became a Master Gardener and obtained a horticulture degree at the Berkshire Botanical Garden where she also served on the Board. From 2000 to 2014 she ran Honey Sharp Garden Design, was the Garden Editor for Berkshire HomeStyle and initiated the Open Days Program of the Garden Conservancy in Western Massachusetts.
For more articles and photographs by Honey Sharp, and to sign up for her newsletter, link to www.honeysharp.com.
Photos courtesy Honey Sharp | Pumpkins; Squash
A "go-to" locally grown produce market for over four decades, Taft Farms, founded by Dan and Martha Tawczynski, has grown in leaps and bounds since its early days as a corner farm stand. Today, with 200 acres of which 80 are cultivated, locals and second home owners continue to flock there for seasonal produce, herbs, flowers and more. Fall is one of their specialties. Native ornamentals such as 16 varieties of gourds and pumpkins as well as Indian corn are a treat to discover on their long, wooden outdoor tables. Children (and adults) can also enjoy their hay and corn maze.
Long before the popularity of farmers' markets and CSA's (Community Supported Agriculture), Taft Farms was a stalwart in providing the community, including the Red Lion Inn and Tanglewood, with freshly-picked corn, tomatoes, strawberries and a host of other produce grown and harvested just outside the check-out counter.
It doesn't stop there; ornamentals including cut flowers are a mainstay. Rows of pink and purple pansy flats will greet you in the spring and hanging flower baskets throughout the summer. Bursting upon the scene in autumn are the colorful and ever so whimsical ornamental gourds that chase away the blues of our shorter days. Smooth and shiny, gnarled and textured, they come in all shapes and sizes, sporting dappled emerald green lush orange or pearl white. Be it the "Gooseneck", "Porcelain Doll" or "One too Many", Taft Farms will grow it. Personally, I like to arrange a display that includes edibles such as acorn and butternut squash and a beauty called "Festival". And there are more edibles than you would think. Even if your arms are full, don't forget their rust colored Indian corn and a warm apple pie baked by Martha.
Address: Corner of Division Street and Route 183, Great Barrington, MA | 413.528.1515
www.taftfarms.com/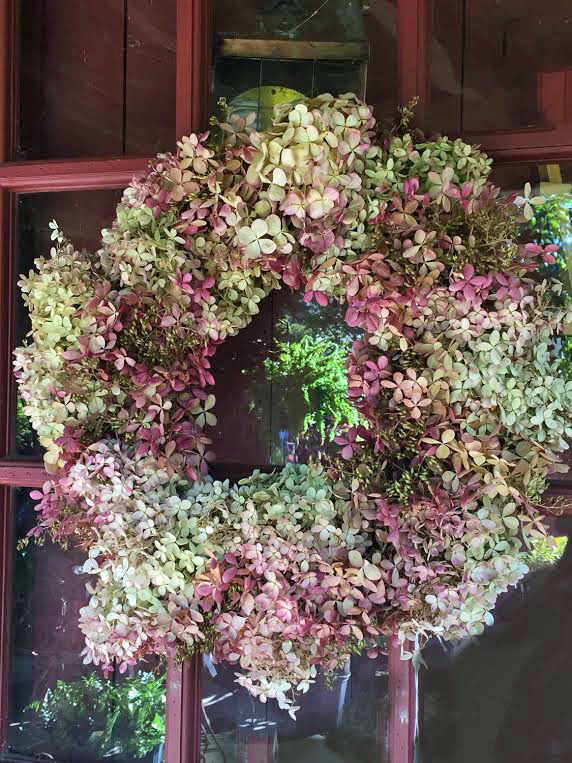 Photos courtesy Honey Sharp | hydrangea wreath; hydrangea with arbor; Chinese lanterns; garlic
Renowned as a top notch plant nursery for quality, even rare, trees and shrubs, as well as perennials and annuals, Windy Hill also offers what we can't plant in our own gardens. You can walk up the hill facing Monument Mountain and pick blueberries galore in the summer, and in the fall countless varieties of apples.
If you're looking to simply decorate your country home or city apartment - with creatively assembled dried flowers or leaves, their hydrangea wreaths are a knock-out. They also last for months and don't feel "season dependent". Living plant arrangements including a mix of tall, billowy grasses, cattails and other fall heroes such as I might combine with fresh, papery Japanese lantern flowers can also be ordered for your urns.
When it comes to natural ornamentals for interiors though, one of Windy Hill's "signature pieces" awaits come November: long boughs overflowing with glorious crimson red winterberries as well as the more unusual saffron yellow "Crysocarpa" or peach "Winter Gold". (I'll never forget how once on a dreary gray day while heading to Stockbridge I almost heard these long rows of Red-osier shrubs hollering: "you've got to plant me in your native garden!").
Also nice to do at Windy Hill is hanging out in Judy and Dennis Mareb's timber frame garden shop cut from their own hemlocks when they opened in 1986. Here, you can sip their own cider, peruse garden books and even consider buying some yellow and orange flower bittersweet. Nope, not the invasive kind but ersatz "silk". Returning in December, the place will be transformed with Christmas wreaths, roping and lots more.
Address: 686 Stockbridge Road in Great Barrington, MA | 413.298.3217
windyhillfarminc.com
PHOTOS COURTESY HONEY SHARP
Being greeted outside the Guido's Fresh Marketplace by Bella Flora's colorful annuals while rushing in to buy some arugula, salmon along with a bottle of Sauvignon Blanc, always lifts my spirits. This was particularly the case when I recently saw Chris Whalen, the co-owner of Bella Flora, busily watering his rusty orange and burgundy red hardy mums now in season and soon to include ornamental kales and cabbages.
He and his wife Annie, the sister of Chris and Matt Masiero, were handed over the flower business reins when the Masieros first opened Guido's on Route 7 in Great Barrington in 1995. After all, Annie was not only their sister but an avid gardener with a degree in horticulture. In addition, her husband, Chris had trained in flower arranging with his mother, Jane. He continues still today to be Bella Flora's principal flower arranger.
Dedicated to the Berkshires, he explains: "We buy our flowers locally as much as possible." Anne Mack's "Wild and Cultivated" farm in Sheffield, Cindy Parson's in West Stockbridge and Cedar Farm in Ghent, NY are principal providers. Today, the pots of mums hail from a farm in Granby MA that will supply poinsettias later (yes, that's what comes next…).
So, what are the cut flowers one can find here now? With a gleam in his eyes, Chris rattles off names such as Acidanthera, Celosia, Dahlias and Montauk Daisies, "the very last stalwart", he emphasizes. And, if you have too many groceries or can't pick them all up, they will deliver.
Address: 1020 South St, Pittsfield | 413.496.8242 | 760 South Main Street, Great Barrington, MA | 413.528.9255 |
bellafloraberkshires.com/
PHOTOS COURTESY HONEY SHARP AND CEDAR FARM
"We do our flower stand at the Hudson Farmers Market more for fun," says Marilyn Cederoth of Cedar Farm in Ghent, NY. With ten acres and ten large hoop houses (i.e. greenhouses) dedicated to growing flowers, you'd think they'd be hard at work in dozens of markets. But Cedar Farm, with its emphasis on high quality plant material, fills a special niche: wholesale cut flowers, flowering branches and wreaths.
Who are the primary customers? Florists and designers from Albany to Saratoga and Brooklyn to the Berkshires. On Saturdays in Hudson these days, however, you can still choose beauties such as red and velvety Celosias (Cockscomb), Sunflowers, mauve Agastaches and wild asters to grace your house.
Katie Swift, Marilyn's sister, is in charge of the "down to earth" part: growing true specimens. "I always loved gardening but it was my sister's idea to grow flowers as a business." She emphasizes how their choice of plants material is based not only on quality and novelty but on how the farm offers delivery and not commercial transport. "Thus, we can focus on more rare and delicate flowers, many of which simply don't ship well." Some of her favorites include Peach Foxglove, Delphiniums, Agapanthus and Cafe au Lait Dahlias. Keeping up with trends such as a demand for scented flowers also informs them. "But really, it's the brides that drive the business. They want more natural and locally grown flowers." The top three: Roses, scented baby Carnations and Dahlias in all colors of the rainbow.
Entering the Rose greenhouse, infused with a subtle perfume from over twenty varieties created by a premier German rose breeder, feels heavenly. I can only imagine how the "Mediterranean" hoop house next door, with its rows of lavenders, might transport one to Provence in July.
What happens when the Hudson market closes? You'll have another chance: Berkshire Grown's Holiday Farmers Markets in Great Barrington and Williamstown for their fall and Xmas wreaths. Look for their signature pieces: whimsical wreaths overflowing with eucalyptus, cedar, curly willow, winterberries and whatever strikes their fancy.
Cedar Farm on Facebook
Hudson Farmers Market (open to November 21st)
Great Barrington Holiday Market (November 28)
Williamstown Holiday Market (November 29)
Basilica Farm & Flea (November 27-29)
Bella Flora