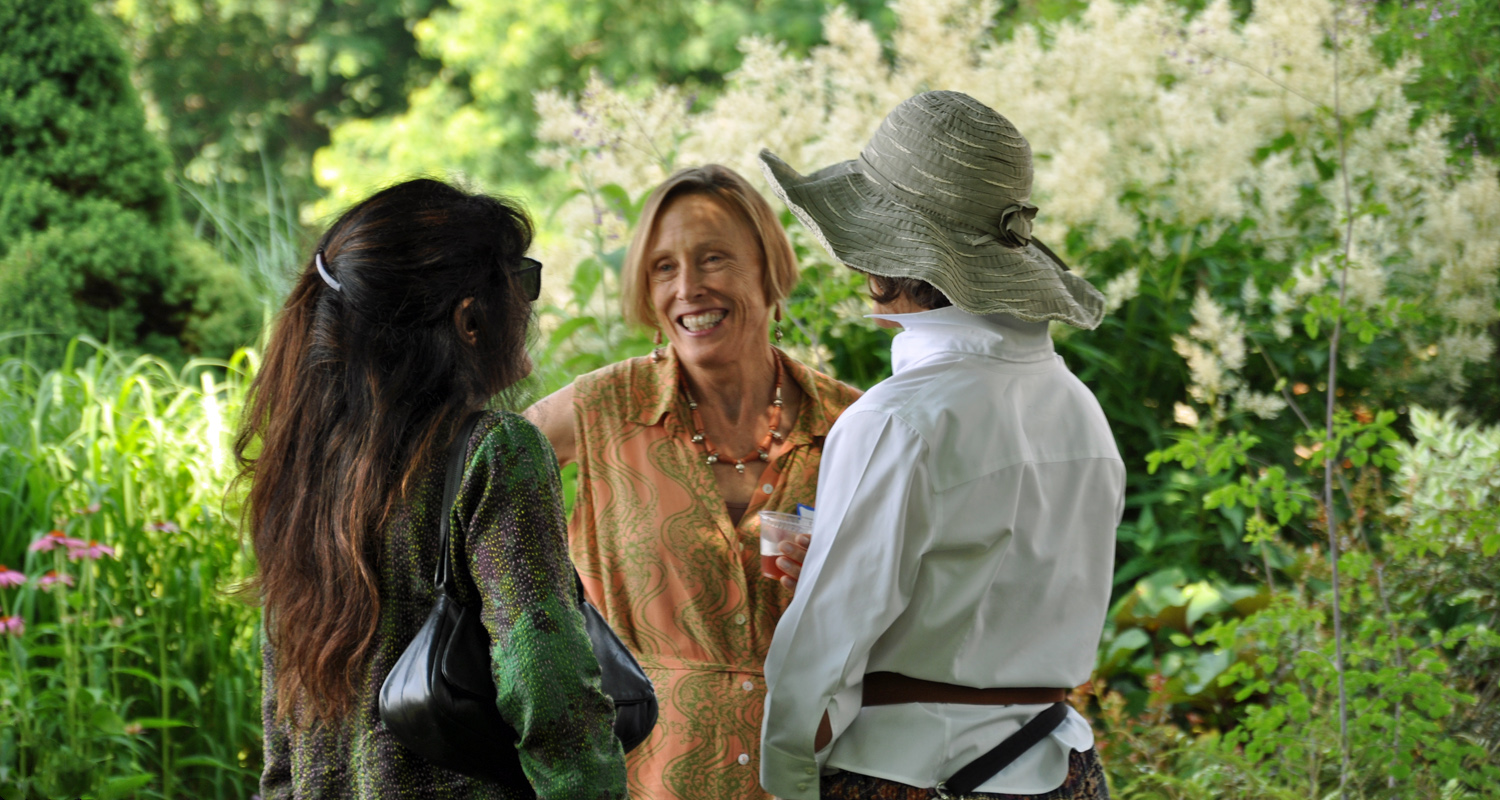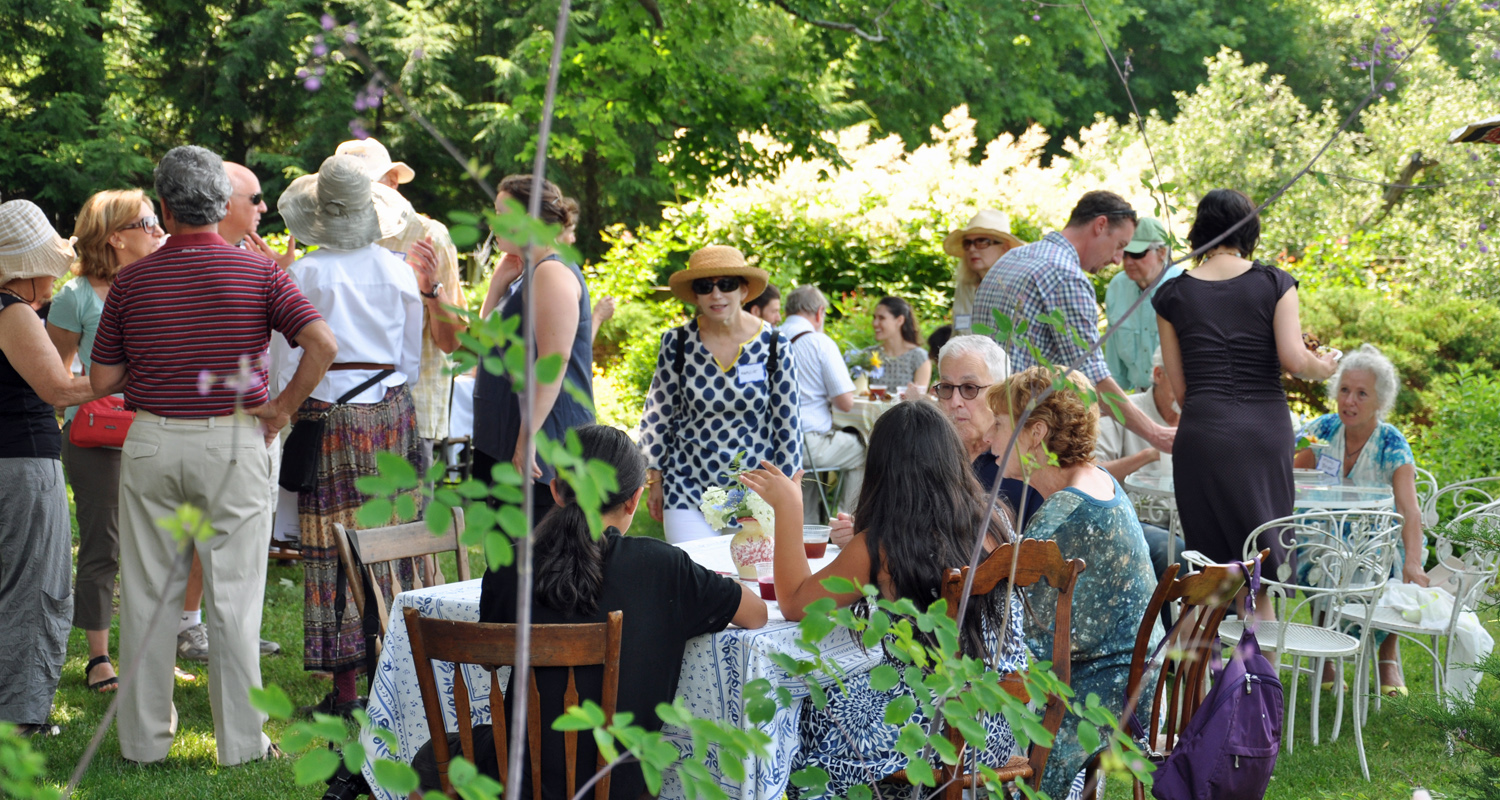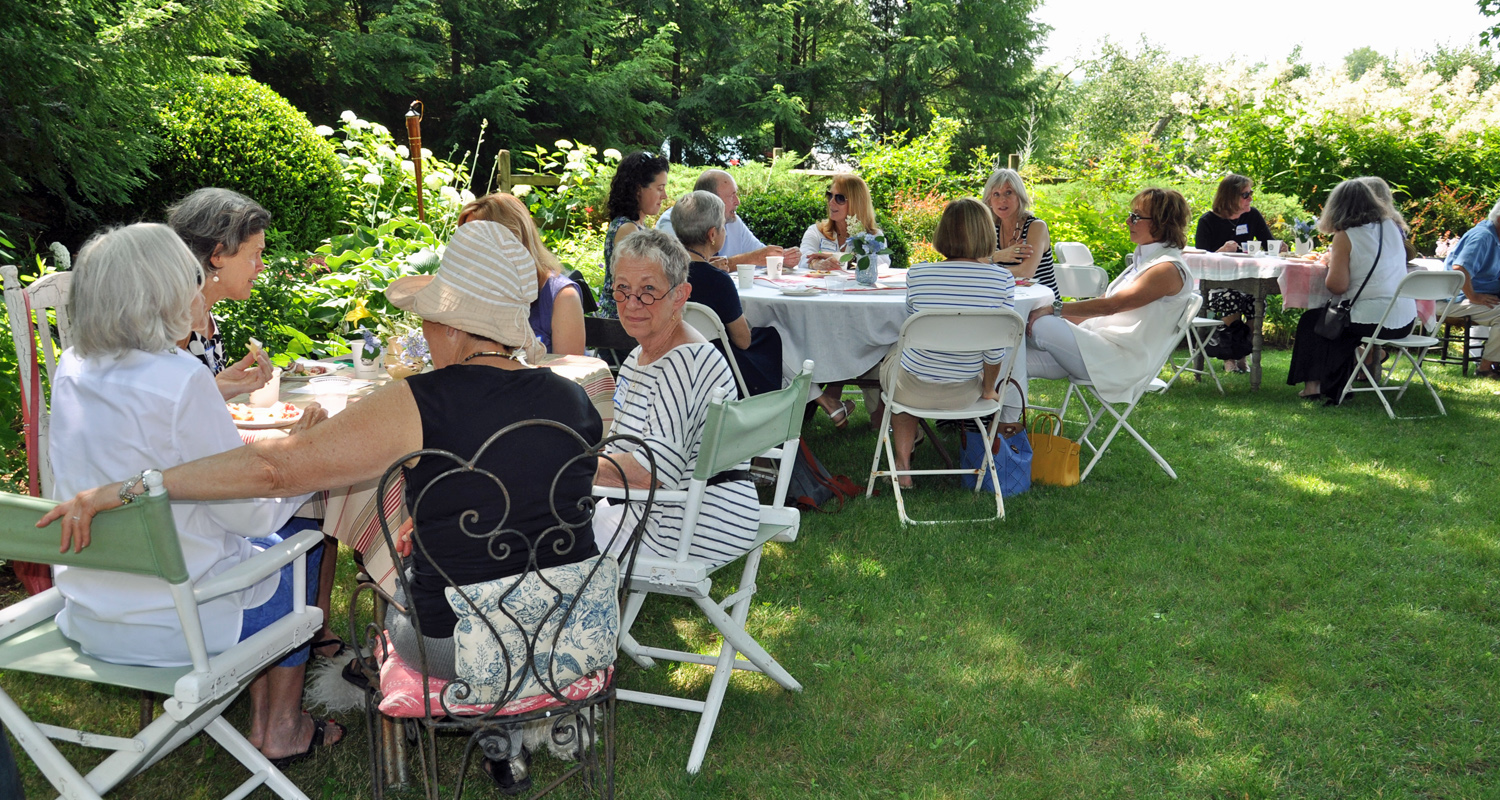 Ruth Reichl at benefit brunch for Berkshire Grown & SHARE THE BOUNTY
Ruth Reichl, best-selling author and former New York Times food critic, spoke recently at a summer brunch in Sheffield to benefit Berkshire Grown. The informal event, drawing about 150 guests, featured locally sourced food served in the garden, followed by a conversation with Reichl in the Cherneff-Velmans barn about her thoughts on the Berkshires and what's next with local farming and food. Reichl talked about her friendship with Alice Waters, dating back to the '70s in Berkeley with the culinary revolution; why she has chosen to live in nearby Columbia County; and her advocacy for the local food movement. Reichl is an enthusiastic supporter of Berkshire Grown. Matt Rubiner, of Rubiner's Cheesemonger's in Great Barrington, led the Q&A, with lots of follow-up questions from the audience. (Slide Photo: Ruth Reichl, Honey Sharp, Executive Director of Berkshire Grown Barbara Zheutlin)
PHOTOS (Berkshire Grown Executive Director Barbara Zheutlin, Ruth Reichl, Barry Shapiro of the Sohn Foundation; Reichl talking about oysters with Austin Banach of BerkShore; event hostess and Berkshire Grown board member Hester Velmans; caterer Jamie Paxton; Ruth Reichl; event host Peter Cherneff; Edith Velmans and Kathleen Chrisman; Matt Rubiner of Rubiner's Cheesemongers; Barbara Zheutlin; Jennifer Salinetti of Woven Roots Farm, with her daughter Noelia; Maddie Elling of Hosta Hill; Neil Chrisman, Barbara Zheutlin, event co-sponsor Deb Ryan and Jennifer Salinetti; Harold Grinspoon of the Harold Grinspoon Foundation, Jennifer Salinetti, Barbara Zheutlin and Will Conklin, director of Greenagers; Roberta Haas and Barry Shapiro.)
Co-sponsors for the event include: The Robert C. and Tina Sohn Foundation, Deb and Bill Ryan, Roberta and Steven Haas and Peter Cherneff and Hester Velmans.
Almost all the food served at the event was sourced from local farms, including: Blue Hill Farm, Chaseholm Farm Creamery, Cricket Creek Farm, Farm Girl Farm, Hawthorne Valley Farm, High Lawn Farm, Hosta Hill, Justamere Tree Farm, Lakeview Orchard, Markristo Farm, Mill River Farm, MX Morningstar Farm, North Plain Farm, Rawson Brook Farm and Windy Hill Farm.
Many local businesses also donated food and/or time: Barrington Coffee Roasting Co., Berkshire Harvest Kitchen, Berkshire Mountain Bakery, Berkshire Wildflower Honey, Berkshore, Cafe Adam, Guido's, Harney & Sons, Old Inn on the Green, Red Apple Butchers and Wheatleigh.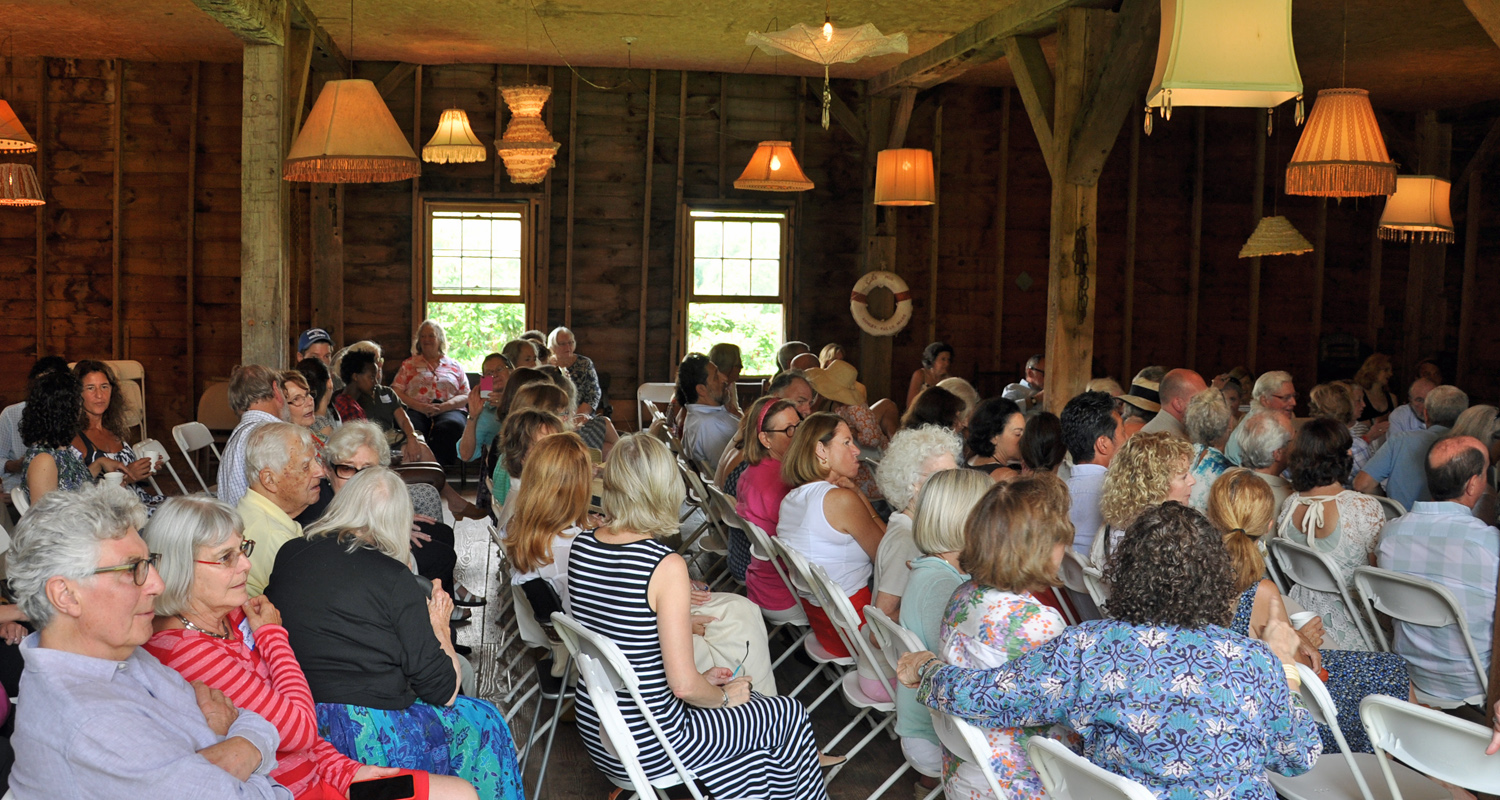 BRUNCH WITH RUTH REICHL FOR BERKSHIRE GROWN Best-selling author Ruth Reichl began writing about food in 1972. In October 2015, Reichl's newest book, My Kitchen Year: 136 Recipes That Saved My Life, will be published by Random House — it chronicles the period in Reichl's life just after Gourmet magazine folded at the end of the 2009. That marked a turning point in the world of food media, but no one was more taken aback than Reichl herself, who had been Editor in Chief of Gourmet Magazine from 1999 to 2009. Before that she was the restaurant critic of The New York Times (1993-1999) and before that of the Los Angeles Times (1984-1993), where she was also named food editor.
Her fascinating, critically acclaimed memoirs include Tender at the Bone, Comfort Me with Apples, Garlic and Sapphires, and For You Mom, Finally. In 2014 she published a novel called Delicious! featuring Billie Breslin, who has traveled far from her home in California to take a job at Delicious!, New York's most iconic food magazine. Ms. Reichl has been honored with 6 James Beard Awards.
Berkshire Grown is a grass roots nonprofit organization that supports and promotes local agriculture as a vital part of the Berkshire community, economy, and landscape; its mission is to "Keep farmers farming!" Through events, workshops, promotions, advocacy, and education highlighting locally grown and produced food, Berkshire Grown helps to create a thriving local food economy. Through Share the Bounty, a project of Berkshire Grown, fresh food is purchased from local farms and donated to food pantries and to help hungry families in our area. SEE OUR SHARE THE BOUNTY STORY
PHOTOGRAPHS OF THE CHERNEFF-VELMANS BARN