SCENES FROM THE KITCHEN AT THE JAMES BEARD HOUSE IN NEW YORK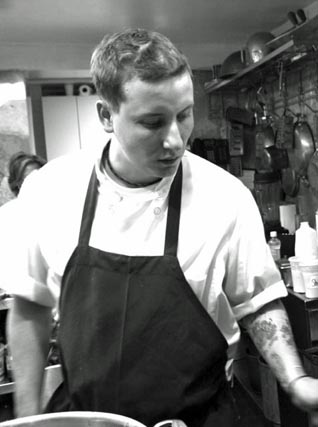 BRIAN ALBERG AT THE JAMES BEARD HOUSE
In 2014, Brian Alberg of The Red Lion Inn hosted a solo dinner at The James Beard House in New York, celebrating his eleventh appearance there. Known for his steadfast commitment to local farmers and food artisans, Brian sources locally for quality and in support of the local economy. A member of The James Beard House for sixteen years, Brian often invites Berkshire chefs to collaborate with him on dinners sourcing ingredients from local farmers, showcasing vegetables, cheese, dairy and meat from the region.
JOHN ANDREWS FARMHOUSE BRINGS "BELTANE IN THE BERKSHIRES" TO NYC
Chef Dan Smith of John Andrews Farmhouse presented his first solo dinner in April at the James Beard House in New York City. Smith has been the chef-owner of John Andrews in South Egremont, Mass., since 1990, creating regional cuisine for several decades, long before farm-to-table was a trend. The restaurant celebrates 25 years this May and Smith's dinner at the Beard Foundation is one of many celebratory events that will take place throughout the year.
Known as the "architect of modern Berkshire cooking," as coined by Travel & Leisure magazine back in 2004, Smith is well known for his dedication to local food. He purchases from more than 50 farms in the Berkshires, Hudson Valley and Connecticut for his restaurant. In addition to his long-term partnerships with regional farms and food producers, Smith created his own garden on the property, which supplies additional produce for the restaurant.
"Having been part of the Berkshire chef team that has visited in winter for so many years, it's thrilling to be able to plan and prepare an entire meal during the Spring season with our style and mission at the core of the menu experience said Chef Dan Smith."
Smith has been a member of the James Beard Foundation for five years and since 2010, he has been presenting dinners with a team of chefs from the Berkshires. His first appearance was in collaboration with The Red Lion Inn and Berkshire Farm & Table as part of the very popular Berkshire Cure-All winter dinner at the Beard House, working with a collective of like-minded Berkshire chefs to present the multifaceted culinary artisanship of the region. This past March was his fifth year presenting and he will return again with the group this November.
MEZZE RESTAURANT GROUP headed to the James Beard House in New York City on March 9th to present their first team dinner with talented chefs from Mezze Bistro and Allium. Hailing from the Berkshires of western Massachusetts, Chefs Nicholas Moulton and Daire Rooney prepared dishes featuring food produced in the region in complementary cooking styles for the "Berkshires' First Taste of Spring" dinner.
Menu ingredients were sourced from farms and food makers including: Barefoot Farm (Alford, Mass.), Barrington Coffee Roasters (Lee, Mass.), Berkshire Mountain Bakery (Housatonic, Mass.), Berkshire Mountain Distillers (Sheffield, Mass.), Climbing Tree Farm (New Lebanon, NY), East Mountain Farm (Williamstown, Mass.), Farm Girl Farm (Sheffield, Mass.), Gammelgarden (Pownal, Vt.), Hosta Hill (West Stockbridge, Mass.), Hudson Valley Duck (Ferndale, NY), Indian Line Farm (Egremont, Mass.), Lila's Farm (Great Barrington, Mass.), Lukasik Game Farm (South Hadley, Mass.), Maplebrook Farm (Bennington, Vt.), and Mighty Food Farm (Pownal, Vt.)
MORE SCENES FROM THE KITCHEN
Photos courtesy Angela Cardinali.