THE BISTRO BOX is owned and operated by Birdie and Nick Joseph. LOCATION: 937 S Main St, Great Barrington, MA 01230
(413) 717-5958/ www.thebistrobox.com / HOURS: Monday & Tuesday 11-4; CLOSED WEDNESDAYS; Thursday 11-7; Friday 11-7; Saturday Lunch 11-3:30/KITCHEN CLOSED 3:30-5 (Ice Cream, Shakes & Drinks Available)/ 5-7 Dinner; Sunday 11-4
THE BISTRO BOX is a roadside magnet for both lunch and supper. Regulars are so dedicated, the staff knows the names of many who come to the window as well as their favorite burger. In all its simplicity, it's a magical place.
INTERVIEW: You're both from the Sheffield area, and then both graduated from the CIA, then met at Marketplace in Sheffield. How did it come to this? Kind of crazy how we both had parallel paths in life (Mount Everett High School, CIA), travels (Nantucket, Virgin Island, etc..) then moving back home to Sheffield, working at The Marketplace (where we met!) and then branched off on our own ... not every couple can work together,there are some challenges but it seems to be a great fit for us. We love cooking up ideas and are already dreaming up plans for après Bistro Box!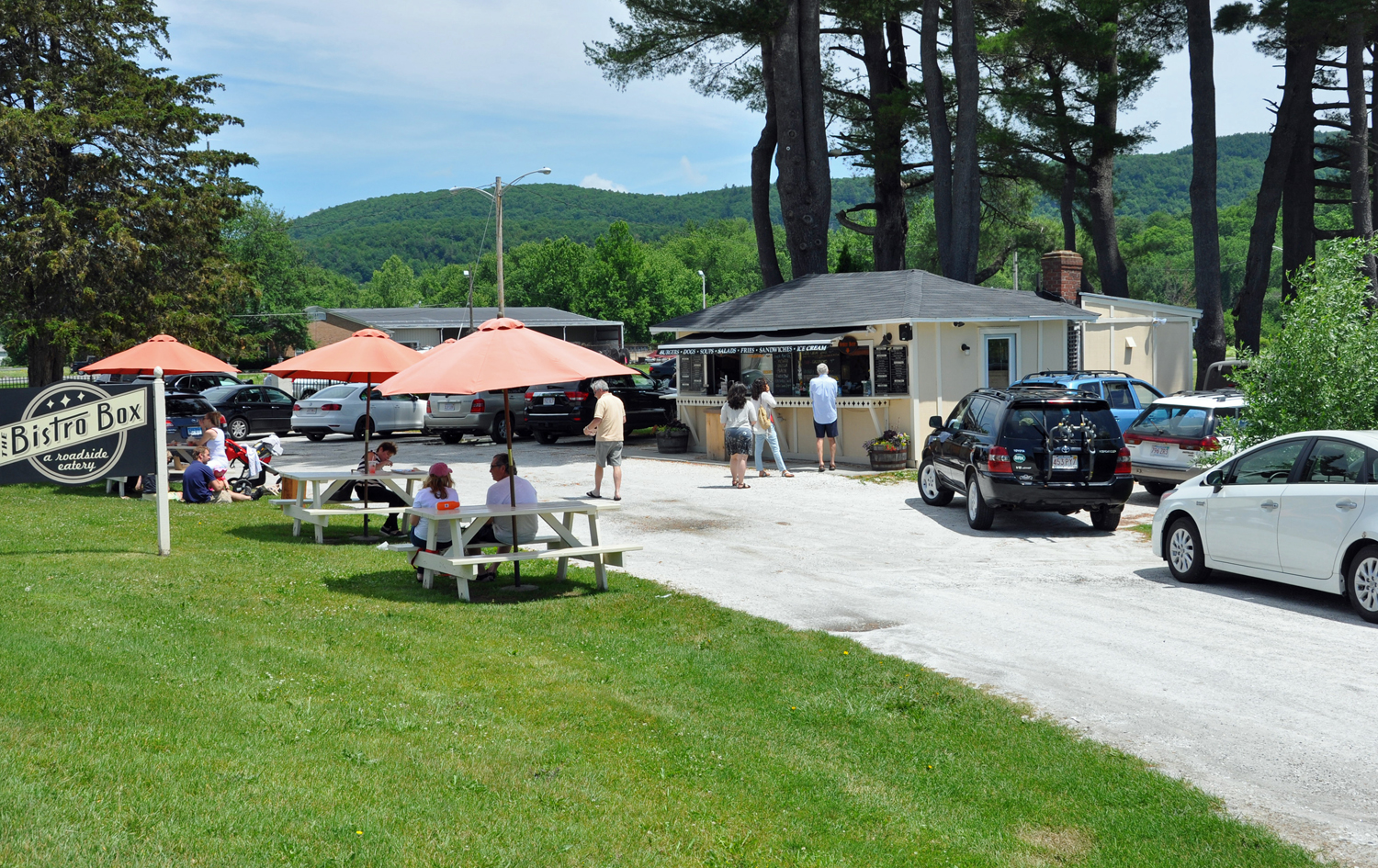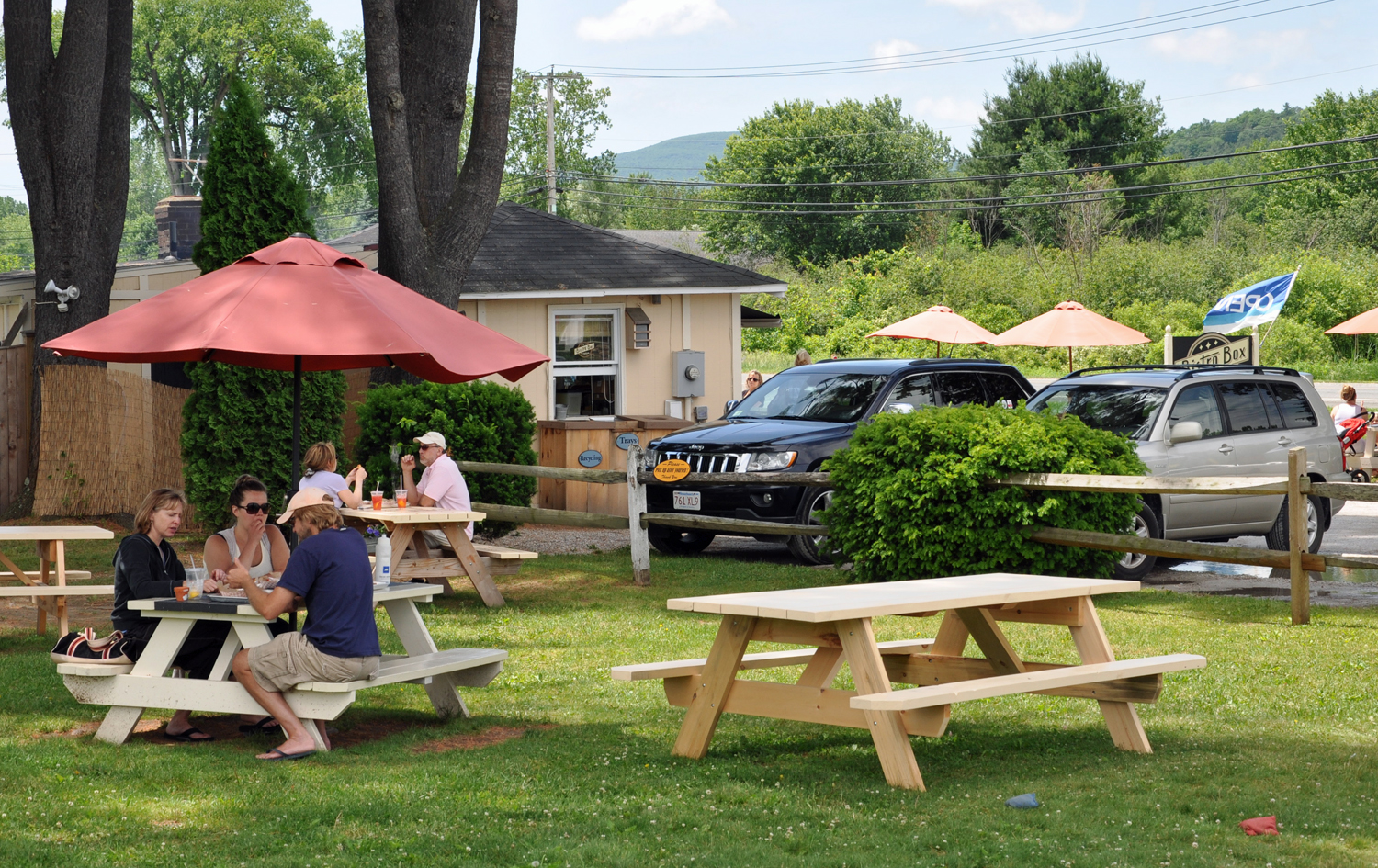 Do most people order food to eat at the picnic tables or to go? On sunny, beautiful days, most people soak in the whole experience - eat at the picnic tables, take in the views, listen to the music and eat our food at it's best! Some days all the tables fill up & we'll see people sprawled out on their blankets & lawn chairs. On chilly days, we do lots of to-go food and answer the phone when we can to take call-ins. Lots of workers say 'to go' and end up eating here anyway!
You've probably got some dedicated regulars. How often do you see them? What do they order and what do they say about Bistro Box? One couple comes five days a week! It's amazing how many regulars we've gotten. So many familiar faces makes running a business in a small town so rewarding. We've gotten great feedback from the community as our roadside is such a unique throwback, it evokes old memories and creates new ones too. Mainly, people love the quality of food and the price. Something for everyone and every budget. It's great to see the variety of people in line sometimes - such a melting pot! There are usually two types of customers, though (food wise, that is) - the ones that get the exact same thing every time they come, and the ones that will try whatever you make. We love both!
How often does the menu change and what's the thinking behind it? We were shooting for a mix of shack favorites (burgers, onion rings, hand cut fries) and cafe fare (soups, salads, panini). Looking to appeal to a broad range of people at a fun roadside location. Simple, fun, classic food - done well, handmade and locally sourced when possible. We've added one or two things to our menu this season and run specials weekly to keep it interesting and try new things. We're just now getting a handle on this year's new volume of business, and are looking forward to doing some seafood specials as well. Last year, people loved the fish tacos, lobster roll, crab cake sandwich and salmon burger so we'll definitely do those again!
You've both been to the CIA ... how does that experience inform what you're doing at The Bistro Box? It helped us in many ways - food costs, menu planning, managing employees ... a lot of the formulas of the food biz and restaurant owners. But mainly it gave us a great foundation as people, chefs & business owners. We've both been in the business our whole lives & every kitchen is a learning experience! It's also who we are as people and our work ethic that has gotten us this far.
You're married, with long days at Bistro Box ... who cooks at home, and what's your favorite meal? A lot of times, when your around food all day, you don't have an appetite - so when we've wrapped up a typical 12 hour day, we'll eat whatever we can get our hands on! So we've gotten better about it and make sure we have lots of leftovers in the fridge when we get home. Nick's passion for cooking is tireless, even on our day off he's grilling and whipping up something delicious for dinner! And on occasion Birdie makes some mean morning pancakes!!!
Where do you enjoy to go for dinner in the Berkshires? Breakfast? We don't go out a ton because of our schedule, so we look forward to our off season - when we are able to get out a bit more and try some new places (as we're seasonal and will close in November.) There are so many spots we've yet to go to! We've lately been out for some Bizen sushi, Bizalion's lunch & awesome tacos at The Gypsy Joynt Jive. Love The Bridge for a great, winter time bar spot. Looking forward to hitting up some more local spots this off season! Our winters are also the time we get to TRAVEL. This past year we bought a house in lieu of travel, but we love going new places and eating good food!
What do you do to relax? We just bought a house in Sheffield (deep in the woods!), so when we're not working, we've been enjoying time there outdoors - yard work, gardening, walks or just laying on the lawn with our dog Lita! We've lovingly dubbed our roadside 'The Pressure Box', as it can be quite crazy at times - so surrounding yourself by nature can be a great way to de-stress!
You've had a food truck in winter. What's the most important thing to know about having a successful food truck? We started after we left the Marketplace doing our food truck and travelling all over (events, music festivals, art shows) and did so for four crazy years.
Our 'food truck' is now parked behind our roadside & used as overflow storage (as we've maxed out our little shack!) So we have hung up our road shoes for a bit as The Bistro Box is keeping us quite busy. Our four years on the road prepared us well for this location, which has similar features - window service, outdoor dining and weather dependent - but much more rewarding as we get returning customers daily! (and we don't have to deal with all those flat tires!)
Where do you source your food? We use the farms listed below on our menu's staples, and this year we're trying out new stuff from some other local farms as well. We hope to get our hands on some strawberries from Wolfe Spring Farm in Sheffield for a shortcake special soon. Such a great area to locally source food from, we're trying to take advantage of it as our customers love it too. Our ice cream (which we make our shakes from) are from Maple Valley Creamery, which is in Hadley, Mass - they start from scratch with their cows! We met them years ago when we were food vending at Falcon Ridge Folk Festival and we traded ice cream for food - fell in love! Also our fair trade organic coffee is from Pierce Brothers Coffee Roasters in Greenfield Mass (who we also met at Falcon Ridge!) We also like to use Chevre from Rawson Brook in Monterey ... we love that stuff!!!
Do you ever go to concerts or events in the Berkshires? We love live music and have gotten over to Infinity a couple times but would love to find more time to enjoy this region's events.
Ever go back to the CIA for events? Haven't made it down there in some time. We talk about it ... but it hasn't happened. Maybe this year we will finally make a trip!!!
What is it about your burger that makes it so great? The onion rings? The Box Burger seems to be a fan favorite - grass fed beef (ground daily from Mazzeo's) tomato bacon jam & roasted garlic aioli. We make the jam and the aioli from scratch- as well as the Onion Rings & the Falafel burger. But making things from scratch can create it's own challenges, such as keeping up with the volume this year has brought. We find ourselves making bigger batches, buying better equipment and relying on our awesome employees to help keep up!
FROM THE MENU
SMALL BITES
Handmade Onion Rings with box sauce
Fried Dill Pickles. buttermilk ranch
Grilled Chicken Quesadilla

SANDWICHES
Breakfast Wrap, Tuscan Panini, Pressed Cuban, Grilled Cheese, Turkey B.L.T. Wrap, Grilled Chicken Sandwich, 'Steak & Cheese'
SOUPS & SALADS
Soup of the Day
Shack Chili. cheddar. scallions
The Simple Salad, Classic Caesar Salad, Asian Salad
BURGERS & DOGS
Roadside Burger; The BOX Burger with grass fed beef, tomato bacon jam, cheddar, roasted garlic aioli; Falafel Burger; Grilled Hot Dog; Farm Frank (local, no nitrite hot dog from Whippoorwill Farm)
HAND CUT FRIES
Lightly salted
Toasted garlic & fresh herbs
Grated parmesan & truffle oil
'Chili cheese fries' our cheddar ale & shack chili
SWEET TOOTH
Triple Chocolate Brownie
Shakes, floats, ice cream sundaes and Fresh Shack Squeezed Lemonade
LOCAL PRODUCERS
Maple Valley Creamery (ice cream!) - Hadley, MA
Pierce Brothers Coffee Roasters - Greenfield, MA
High Lawn Farm (dairy) - Lee, MA
Whippoorwill Farm (Farm Franks!) - Lakeville, CT
Equinox Farm (greens) - Sheffield, MA
INSTAGRAM FEED/ THE BISTRO BOX